Print Sales Invoices after advancing next fiscal year
To print sales invoices after advancing to next business fiscal year.
Go to Setup – Settings – Company – Information.
Looks like this.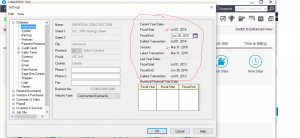 Make sure the dates are right.
If this is the first year of business you may not have these dates.
But it might be an indication as to why the invoices for previous year will not print.
Depending on the version of Sage 50 you have, there are some things you can not do in the lower version.
For example:
lets say the company fiscal year is Jan1, 2016 to December 31, 2016.
You can print invoice copies or reports or make adjusting entries for 2015 ( Jan – Dec)
but not 2014 ( Jan to Dec).
Another way to print previous year sales invoices, go to Reports, Financials, General Ledger and you show be at this screen.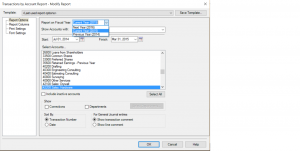 make sure the drop down menu is accessed so you can pick the year you need.
Hope these two tips helped.
If you have older versions of Sage 50 I highly recommend you updating to the newer version.
drop me a note if you are stuck or just want to give me your feed back.