What's New in Simply Accounting 2011
What's New in Simply Accounting 2011 by Sage©
The following information is based on Sage Software Documentations (simplyaccounting.com):
Summary of Sage Simply Accounting 2011 features are listed below:
iPhone / Android Smart phones along with PaymentBoss.com and BillingBoss.com allow integration with Sage Simply Accounting Software.
Sage Payment Solutions a division of Sage provides integrated system with Simply Accounting 2011.
HST Return generation for the purpose of uploading dot-tax files to CRA.
Businesses who use online invoicing tools can synchronize their data with SA 2011.
Quickbooks to Sage conversion with SA Pro.
Payroll Reports offers options to hide the corrections (Pro version).
Intelligent reporting solutions based on Microsoft Excel; part of the Sage software (Premium version).
Enterprise version features: Report Inventory Transactions. View invoices/orders based on inventory or project allocated orders.
In summary: Sage Simply Accounting 2011 has improved inventory, project management, and online government forms submissions.
For more detailed explanation, see What's New in Simply Accounting 2011 PDF file.
A pictorial side by side products features is found below. Click on the image for larger view. (This image is property of Sage©):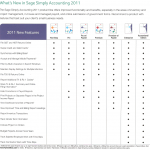 This article Published on:   November 25, 2010
This article last edited on:  November 30, 2010