Productivity
Simply Accounting© Improved Productivity
Tutorial resources and helps are available upon starting the program. Learning Centre, Frequently Asked Questions, relevant blogs and Forum are available right at the Enhanced View window.  (Click on Switch to Enhanced view at the top right)
The user interface has been designed to increase office productivity. For example if you spend most of the day performing Vendors and Purchases tasks, then you can make that your default page. Each time you start Simply Accounting 2011, Vendors and Purchases module will start automatically.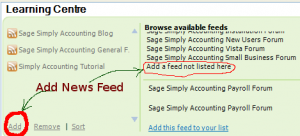 Knowledge is power and  by specifying your favorite RSS feed you can always be kept up-to-date with new tips and tutorials. As an example: Start SA, and at the left pane click on Learning Centre. Now look at the green background pane at the right. Click on the "Add" link, then at the top right click on "Add a feed not listed here". Enter the URL of the WordPress blog site you are interested (i.e. http://www.favoriteaccountingsite.com/feed   Make sure you enter the http:// as well). Click on Check and Finish. Now you have the news feed of favoriteaacountingsite available right at your finger tips.
Learning the new features to increase company productivity is easy with this great modernized Accounting Software.