Simply Accounting 2011 Comparison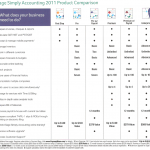 There are 6 main type of SA 2011. They differ in:
Payroll capability is embedded in Pro with Payroll and Premium with Payroll.
Inventory management features.
Premium and Enterprise editions come with two-user license. If more than one person is  required to work on a set of data, these products should be considered.
Accessing customer support is available to Enterprise flavour.
Working in different currencies are unlimited in Premium and Enterprise, Pro can handle two.
Years of financial history are 7 for Pro and 100 for the top three products.
Prepare Bill of Materials are feature of the top 3 products.
Retail stores carry Payroll editions. If purchasing directly from Sage ©, add the option of Business Care Payroll or Gold plan.
The picture above shows side by side comparison. Click on the image for larger view.