Simply Accounting © 2011 – Getting Started
Running SA 2011 Free Trail for the First Time
SA 2011 is designed to help even beginners to start their bookkeeping without prior CGA credentials. It serves as an Accounting Tutorial as well as an Accounting Program.
In the previous post called Accounting Software Free Trial we explained the download and installation process. In this article we are going to run the newly installed version of © Simply Accounting 2011 under Windows Vista. (Each image listed in this article can be viewed in a larger format by clicking on it.)
Double click on the icon of "Sage Simply Accounting Enterprise 2011 – Trial Version" on your Desktop. Click on Activate Now and enter the Company Name and Key Code (I know it is 23 letters and numbers, the good news is that copy and paste does work here).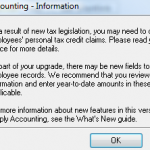 Go with session date of Mar 31, 2015. This is the Sample Company data we are opening.
Getting Started dialog box helps you to get familiarize with the software. Snap shot of it looks like: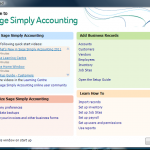 And actual program interface starts in Enhanced view: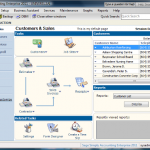 At the left column there are Customers & Sales, Vendors & Purchases, and other useful categories a business deals with on a day to day basis. Clicking on each, will update the right pane with relevant information.
Also note the last section at the bottom left called: Learning Centre. You can find out about New features and available training classes. Frequently Asked Question area addresses common issues and remedies.
What Does Simply Accounting 2011© Offer?
In summary they are:
Saving Time: Payroll for Do It Yourself
Choice of language: Bilingual
Specific: Designed for Canadian Small Businesses
Full featured: Inventory management, invoicing, cash flow, bill payments
You are in Control: Report on your business health
Multitasking: Several projects? No problem
Flexibility: Plenty of options available
Thank you for staying with us so far and we will be updating our accounting blog tutorial site. Bookmark us for future reference. (We are working to make this website Smart Phone friendly for people on the go).
Today: December 16, 2010