Sub ledger and Control Account
I am trying to change my year from 2016 to 2017 but it is saying,
The sum of your Customers' information does not equal the current balance of account 1200 Accounts Receivable.
$0.00 Total Outstanding Invoices
$17,546.99 Current Balance of 1200 Accounts Receivable
_______________
-$17,546.99 Difference
Either your Customers' historical information or the opening balance of account 1200 Accounts Receivable, or both, is incorrect.
If your trying to fix it by doing a journal entry and can not access account 1200 that is a good thing.
It means that account 1200 Accounts Receivable is linked.
go to Setup – Settings – Receivables – linked Accounts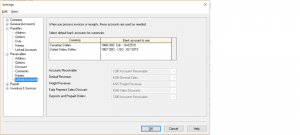 Leave that screen and lets check the control account against the sub ledger.
The control account is account 1200. in this account all the customer invoices and all the customer payments are recorded as debit and or credit. the net balance at any given time should equal with the sub ledger and that is where you post your invoices or in receipts where you post your payments.
You can always view the control account by pulling up a balance sheet.
Drop down Reports – Financials – Balance Sheet
Choose your date. Mine is March 31, 2015.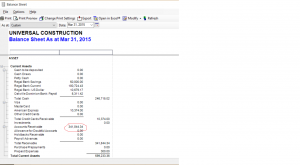 The amount in AR is 341,844.34 and this amount has to equal with the AR listing.
Frist click on Reports – Customer & Sales – Customer Aged.
Report Type should be Summary – Select All – and the date should be same date as the Balance sheet.
Mine is March 31, 2015.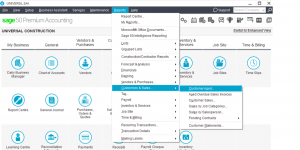 2nd screen to get to the report.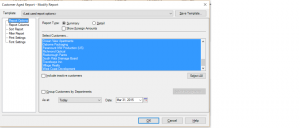 click on ok and view the report and the balance to match.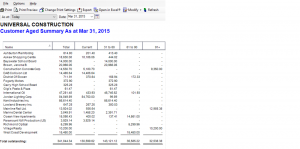 Notice the sub ledger has the same $34,844.34 balance as the control account on balance sheet.
So, when your trying to advance from one fiscal year to another ex: from 2016 to 2017 business year all these account have to be aligned.
sometime during the year the control account 1200 was affected outside of the sub ledger AR and Receipt journal. a picture of it is below.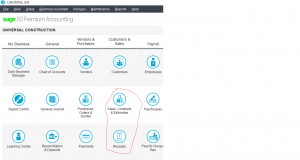 This Classic View but you might be working in the Enhanced View.
Go through the account 1200 and see where the system was changed.
Hope this tutorial helped.
come back and visit the site for more.