Advance to Next Year, Payroll Calculations
This tutorial is how to advance to the next fiscal year. Click on any picture to make it bigger.
This is done with Sage 2018 but the screens should still be the same with lower versions of Sage.
Follow the link to a tutorial that will help you.
Once you have advanced to December 2017 fiscal year you can enter transactions in previous year. The system will prompt you and say you are posting into last fiscal year but go ahead and accept.
The owner has been calculating payroll manually. So I gather you have not subscribed to Sage Payroll option so it will calculate CPP, EI and income tax automatically.
In that case all payroll must be entered manually. Its very easy, This is how.
Open Paycheque module and choose employee you want to pay or enter an already paid payroll cheque.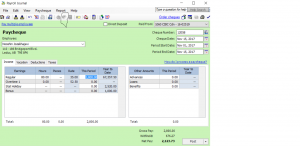 Enter the cheque date, star and finish date for the payroll period.
Enter the employees hours and click on Enter Taxes Manually (I have circled it)
Now – click on Taxes tab and manually enter CPP, EI and Income tax the owner has already calculated.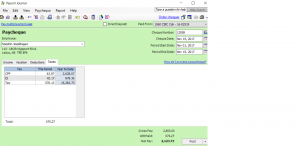 Make sure the net pay matches the manual cheque and go ahead and Record.
You can back date to last fiscal year and enter all pay cheques and update employees records so you can prepare T4 for them.
You need to backup regularly. I back up on to a USB stick and take it home with me each day and the file name I use is the date so I know what the last backup was.
to back up your file from home screen drop down File menu and choose backup.
Have a designated spot for your backup if its on USB or on your hard drive so you know where they are in case you need to restore them
To restore a backup follow this link.
You have 2010 version of sage but I think you still can prepare T4 and get information for record of employment.
From home screen drop down Reports, Payroll and you will see Print T4 Slips and Print Record of Employment.
In order to print T4s with ease, all employees address and SIN# should be recorded.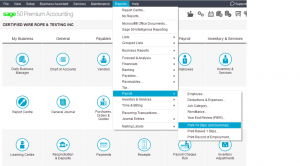 If the reports do not print properly go to home screen and drop down Setup menu and Reports and Forms.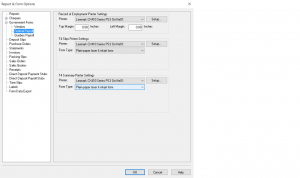 I hope this helped.  If you have other questions please let me know.
nk