How to open backup from USB
Hi again,
This tutorial is about opening up a backup from a USB.
Lets get started.
open you simply program to Sage 50 screen.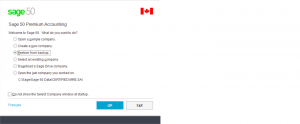 Select Restore from backup and click OK.
Click Next.
Your at Select Backup File screen

Click on Browse and open the USB drive.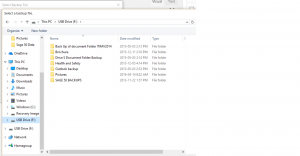 I keep all my backups under Sage 50 Backups.
when I open Sage 50 Backups Folder I can pick from any backups and restore it.
I choose April 26 2017 Backup1.CAB
Make sure the extension is a .CAB which is a cabinet file.

Your screen should look like this. With your backup file populated and you can click on Next.
Click Next again.
This screen wants you to give a destination for the backup to be restored.
Click on Brows or type in the destination.
Make sure you make a note of where the destination will be.
My destination is C:\Sage\Sage 50 Data\CERTIFIEDWIRE.SAI
click Next.

Click on Finish.
You have restored your backup and Sage 50 should automatically open.
At the top blue bar you can confirm the file name you choose.
Hope this helped.
If you have any other questions please drop me a note.
Come back for more tutorials.
nk