Payroll Deduction
Hi Everyone, I get lot of questions about sage 50 Simply Accounting payroll deductions and income so; I decided to write a tutorial.   There are four steps on how to set up a payroll deduction or income. This tutorial will be in the classic mode of Sage 50.   Just like any other deductions such as source deductions, extended health or RRSP deductions you have to set up an account in the chart of accounts to track because at some point you need to pay the amount you are deducting to an individual or government agency.
Step 1 – Create the account to track in the chart of accounts. Open your sage 50 Simply Accounting program and on the home screen click on Accounts or Chart of Accounts depending on the version of Sage 50 you have.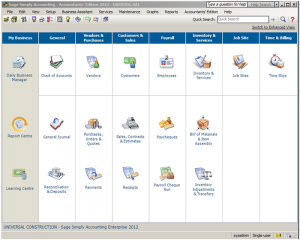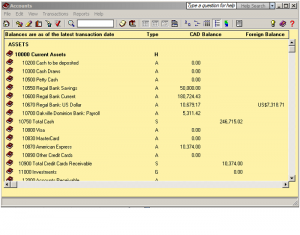 Click on File – Create. In the 2— series liability accounts create an account to track deductions and in the 5— series expense account create an account to track income. Under Type choose Group Account. Save and Close.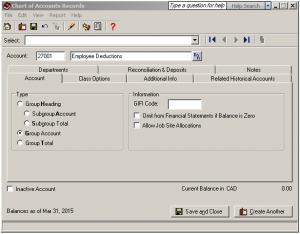 You have now created your account and ready to link this account to the payroll module.
Step 2 – On the home screen, click on Setup – Settings, Payroll, Names, Income & Deductions. Notice I have changed Deduction 8 name to represent Employee Ded. You can also choose an available income category and change the name. Click OK.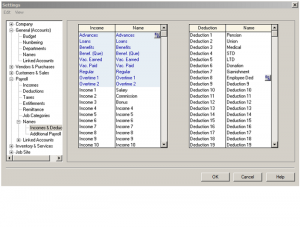 Step 3 – You now need to assign an account number to the deduction or income name you just created. On the home screen, click on Setup – settings – Payroll – Linked accounts – Deductions. You can also choose Income if that is what you need to setup. Assign the account number you created in the chart of accounts as a linked account to track the deductions you will be taking off the employees pay cheques.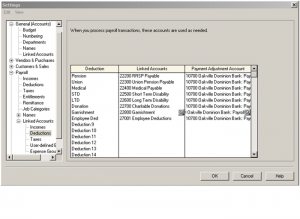 4th Step – on home screen, click on employees – and choose the employee.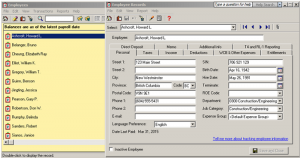 On the employee record screen click on deductions tab. Put a check mark in the Use colum and include an amount in the Amount Per Pay Period colum. Save and close.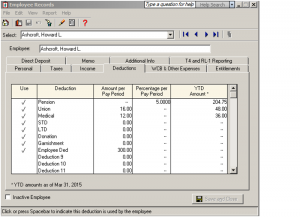 This concludes our tutorial session. If you have any questions or comments click on the link below. http://www.simply-accounting-tutorial.ca/ask-questions/ask-questions and scroll all the way down the page.