Payment Method Remain on Screen
Payment Method updated in 2017 Sage 50 version.
In the 2016 and older versions of Sage 50 if Payment Method was set at Cheque, Visa or other methods of payment, your choice would remain until you exited the Purchase or Sales journal at which time it would default back to Pay Later.
In 2017 version the tack beside the Payment Method box must be activated for your choice to remain.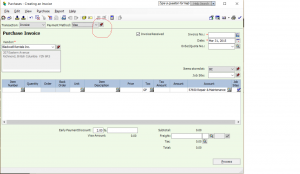 Once the update for 2017 has been done this issue will be corrected.