03- Reconciliation & Deposits
This tutorial shows how to group deposits.
ex: on October 21, 2019 you receive cheques from 3 customers as followes:
Ashburton paid $212.
Askews paid $18,020.
const. Concrete paid $9,350.
total deposit 27,582.
on the general ledger each one of these entries show up separately  but the total shows up on the monthly bank statement from your bank.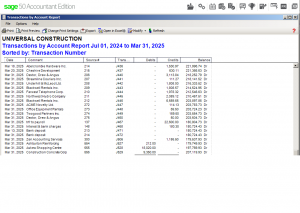 Now Sage has enables the Deposit module where the deposit can be totaled for ease of reconciliation.
On the home screen click on reconciliations and Deposits.
from the top make sure the Transaction and the Account refer to what you need. Click Select button on cheque side.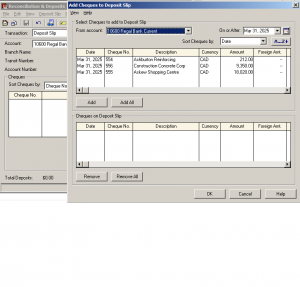 Once again make sure the bank account is selected and click on Add all and OK.
Press Process.  The total amount of the deposit will show up once your ready to do the monthly bank reconciliation. It will still show up as 3 separate deposits on the GL but on the reconciliation module it will show up as a lump sum for ease of reconciling the bank statement.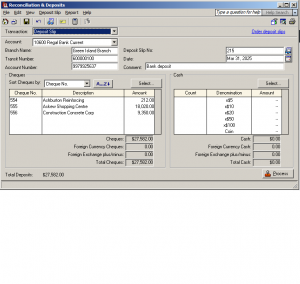 Hope this helped and if you have any questions on this or other how to. please drop me a note.
nk