How to re-issue payment cheques
This tutorial will be on re-issuing cheques that have been lost in the mail or wrong amount or for what ever reason needs to be voided and re-issued. And these cheques were written in 2017 fiscal year end and need to be re-issued in the 2018 fiscal year.
Because we are dealing with 2 fiscal years lets not affect 2017 as it has been closed and ready for completing the income tax.
lets do all the necessary adjustments in the new fiscal year. As a result these cheques will remain as outstanding at the end of 2017. But will be adjusted on the 2018 General Ledger report.
On the home screen, click on Purchases orders and quotes.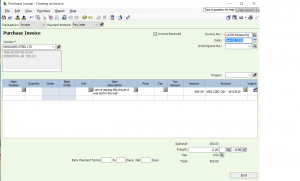 From the top – you want this entry to be set as Pay Later, The invoice# will reflect the original invoice # followed by ReIssueChq. The date will be current date, Jan 2, 2018. In the description you can put a note so you know why this entry was make. do not charge GST as it has already been done when you posted the actual invoice last fiscal year. put in the amount and the account number should reflect the bank account you are trying to correct.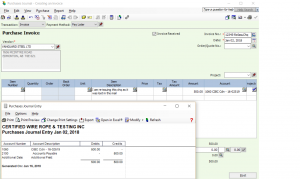 At the top of the payable screen click on Reports and Display journal entry.
The effect of the entry is debiting the bank, so putting the funds back into the bank account and crediting accounts payable. Go ahead and process this entry.
Now you can re-issue the cheque.  Go to Payment journal and re-print the chq by using today's date and by using the next available cheque number. click process.
You still have to call your banking institution and let them know to put a stop payment on the old cheque.
Hope this helped. Let me know if you have any other questions.
nk